Removable Partial Dentures
A removable partial denture is designed to replace lost or missing teeth.  A partial denture consists of acrylic teeth attached to a thin, precise metal framework by pink acrylic (gum colored).  The metal framework connects by clasps to the existing natural teeth.  This enables the partial to stay in place.  We have our own laboratory on site which allows the denturist to work side by side with the lab technicians to achieve the best possible fit.  Since everything but the metal framework of the removable partial denture is made "in house" it allows us to complete the series of appointments quickly and efficiently without the delay of sending it out to another lab. Once you have your removable partial denture, you will be able to perform many of the regular functions of teeth such as chewing and talking, and can reduce the number of infections or irritations that may otherwise occur. Most people are used to their new dentures in just a few weeks and full adjustment to your new teeth will usually take about thirty days.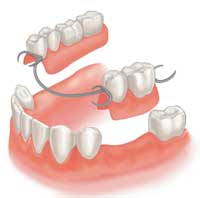 You can also make changes in color and appearance easily when you try your new partial in wax before it is processed.  It is important that your remaining existing natural teeth have all necessary dental treatment completed before your partials are started.  This will ensure the best possible fit. If your existing natural teeth need any dental restorations before the removable partial denture is completed we can accommodate you on our general dentistry side of the office.  The nice part is you can get all your treatment done here.
We offer a free consultation on all denture services.
In order to adjust to your removable partial dentures faster and make sure they last as long as possible, try taking some of these key steps. Giving your mouth a rest every day by removing your dentures for six to eight hours ensures that your mouth has time to recover from any irritation that may have occurred over the course of the day. In addition, cleaning your dentures with an approved denture cleaner and avoiding foods that are too hard or sticky will also give your dentures a longer life.