Removable Partial Dentures
A removable partial denture is designed to replace lost or missing teeth.  A partial denture consists of acrylic teeth attached to a thin, precise metal framework by pink acrylic (gum colored).  The metal framework connects by clasps to the existing natural teeth.  This enables the partial to stay in place.  We have our own laboratory on site which allows the denturist to work side by side with the lab technicians to achieve the best possible fit.  Since everything but the metal framework is made "in house" it allows us to complete the series of appointments quickly and efficiently without the delay of sending it out to another lab.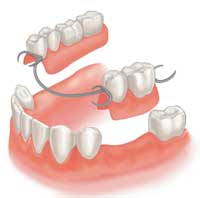 You can also make changes in color and appearance easily when you try your new partial in wax before it is processed.  It is important that your remaining existing natural teeth have all necessary dental treatment completed before your partials are started.  This will ensure the best possible fit. If your existing natural teeth need any dental restorations before the partial is completed we can accommodate you on our general dentistry side of the office.  The nice part is you can get all your treatment done here.
We offer a free consultation on all denture services.